Your wood fence is designed to be strong, sturdy, and safe. But have you ever wondered about the parts that work together to make it so effective? Here's an overview of the anatomy of a wood fence.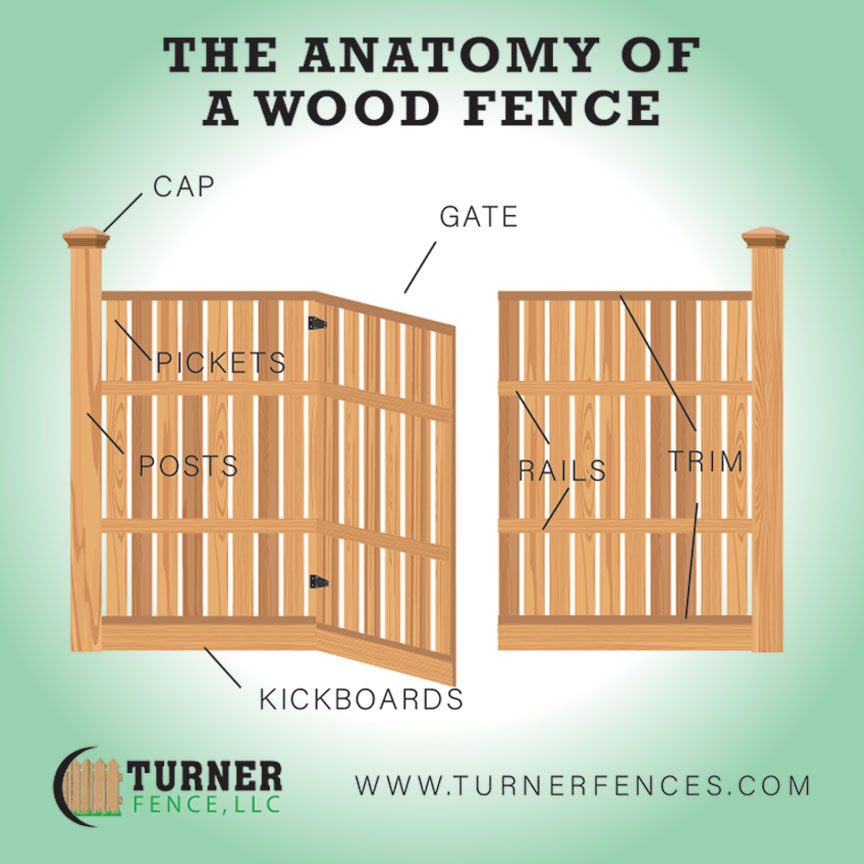 The

Essentials
Each wood fence will have these important parts.
Posts
If you can name any parts included in the anatomy of a wood fence, the posts probably come to mind first.
These are vertical planks of your fence surrounding the pickets. They are also embedded in the ground or concrete, so your fence remains in place.
Rails
Rails stretch horizontally across your fence. They ensure that the fence stays structurally sound.
Pickets
As for the pickets, they're the big planks that make up the body of your wood fence. They sit in between the posts and perpendicular to the rails.
Extra Additions
These additions may not be present on every fence. However, they can enhance its security, functionality, and appearance, so it's wise to consider them when planning your fence.
C

ap
The cap goes on top of your fence's main posts. If you enjoy personalizing your property, the cap is a great tool to incorporate a sense of aesthetics to your fence.
Or, you can leave it simple, clean, and classic. The choice is yours! Just another one of the benefits of a custom fence.
Gate
A gate can open to allow entry through your fence. It consists of a latch for unlocking, hinges to let it swing open or closed, and a handle to move it. It may also feature a padlock or keypad for additional security.
K

ickboards
Moisture is the enemy of all wood fences. Not only can it cause rot, but it can invite pests. Fortunately, a kickboard can prevent those problems.
How? It provides a pressure-treated foundation to your wood fence.
T

rim
Some fence owners want a sleeker look. Trim can make everything look more uniform, as it conceals the fasteners connecting different parts of the fence.
Summary
While the anatomy of a wood fence may seem standard, our fences are anything but ordinary. We can expertly craft a custom fence to fit your yard.
Ready to reach out? Contact Turner Fence for your free estimate! To learn more about the fences we build, browse our blog here.
You can also explore more fences terms and what they mean in our previous blog.